My reason for continuing to run my AM-1600 is for laziness (it runs some programs I do not want to re-write), and for nostalgia. In these days of techno-uberkill everywhere, it's cool to see how much could be done with a silly old 68020 running 25 Mhz and 4 megabytes of RAM. I know, I was there.
I bought my last Alpha Microsystems computer in 1991, an AM-1600. Like most Alpha Micros of this vintage, the AM-1600 had a simple 50 pin SCSI nee SASI interface for hard drives and tape. Typically, modern SCSI-2 style disk drives just don't work in these old computers, and if you want to keep using one of these old beasts, you need to find an old SCSI-1 disk drive for it.
The problem is that hard drives wear out, and the mass market doesn't make compatible disk drives anymore.
Some AM users are lucky enough to have systems that accept SCSI-2 disk drives. If you are so lucky, then you don't need to do this.
The solution is a SCSI-to-IDE converter. A bit of googling showed that these worked for people in the same boat with old Macs and SGI systems with SCSI drives. I can report that it can work on old AM systems, too. The adapter card I used was an ACARD AEC-7720U adapter, which I found on Ebay for less than $50. ACARD says it's for CDROMS, but it works just fine for my Alpha Micro's hard drive.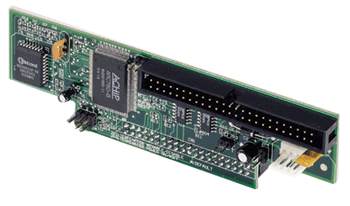 This scheme counts on the existing SCSI drive having been originally formatted with the Alpha Micro FMTSCZ program. If your old drive was so formatted, after the copy process detailed below, the new drive will appear to be exactly the same size as the old disk drive. Yes, you might be wasting 39 out of 40 gigabytes, but what was the Alpha MICRO going to do with 40 gigabytes anyhow?
Here are the steps I used to switch my AM-1600 to using a new IDE drive:
Back up your old AM drive. Verify the backup.
Buy a new IDE drive whose capacity is larger than your old AM drive. (This will be trivial.)
Attach SCSI-to-IDE adapter to new IDE drive. Set SCSI ID to 4.
Remove old AM boot drive from Alpha Micro, leave ID as 0.
Attach just the new drive to PC SCSI bus.
Disable parity on the PC SCSI adapter. The AM-1600 doesn't use parity.
Power up the PC.
Use Bart Lagerweij's SCSI tool http://www.nu2.nu/scsitool/ on the PC
Select the new drive.
Use Utility::Format to format the new drive. This is very quick.
Optionally, run the diagnostic tests on the new SCSI drive/adapter combo to make sure it works. This takes a while.
Use Utility::Erase Disk to zero all of the drive blocks. This is very slow.
Power down the new drive and PC.
Attach the old Alpha Micro drive to the PC SCSI bus.
Power back up PC and new and old SCSI disks.
Using SCSI tool, scan the SCSI bus. You should see the new drive on address 4 and the old drive on address 0.
Select the drive you want copy, SCSI 0, the old AM drive
Go to Utility::Disk Copy
Using the space bar, select the drive you want to copy TO, SCSI 4, the new IDE drive with the SCSI adapter.
The next screen verifies the direction of the disk copy. MAKE SURE YOU READ the OLD AM drive, and WRITE to the NEW DRIVE!! Press return if the direction is correct.
Wait for the copy. It could take up to an hour.
Power everything down.
Change the SCSI ID of the SCSI-IDE adapter to 0 before we install the new drive in the old AM system.
Make sure the termination jumper on the SCSI-IDE adapter is correct for your SCSI setup.
Plug a power cable into the floppy disk style 4 pin connector on the SCSI-IDE adapter. (My AM-1600 power supply had a cable for this already, but you can buy an adapter.)
Plug power into the SCSI hard drive and secure the hard drive into your computer. Make sure there is extra room for the adapter board on the IDE drive.
Power it up. It should boot exactly the same as the old hard drive.
Consider donating a few bucks to Bart Lagerweij if you like how SCSI Tool saved you some time.
Your results may vary from mine. If this works for you, that's great. If it doesn't, that's your problem. This advice is free, and without warranty of any kind. My only reward is the thought of old AM systems continuing to run.
WARNING: DO NOT OPEN UP ELECTRONIC CABINETS WITHOUT USING CAUTION, AS INJURY OR DEATH COULD RESULT.
WARNING: IF YOU DO THIS DISK COPY IN THE WRONG DIRECTION, YOU WILL ERASE ALL OF YOUR DATA. TAKE A BACKUP FIRST!